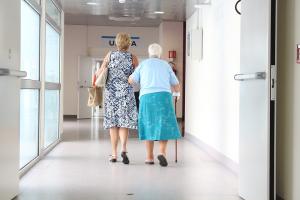 Parkinson's disease (PD) is a progressive neurological disorder characterized by tremor, bradykinesia, rigidity, and gait difficulty.  PD patients typically respond well to medications in the early to moderate stages of the disease. Because these symptoms are mostly managed in the outpatient setting, PD patients rarely need to be hospitalized and inpatient providers often have little exposure to PD. 
As the disease progresses, patients may develop motor complications such as dyskinesias (abnormal involuntary fidgety type movements) and wearing off (where PD symptoms come back before the next dose). The presence of motor complications requires specific timing of medication dosing to minimize symptoms. 
Other problems such as psychosis, dementia, falls, and infections, may occur when patients reach a more advanced stage. Due to these issues, PD patients are hospitalized more frequently, face higher rates of hospital complications, and have longer lengths of stay than an age-matched general population. 
This module will educate you about the specific and unique needs of the hospitalized PD patient. Hopefully, the knowledge gained from this module will shorten hospitalization stays for patients with PD and provide them with a safer and more pleasant hospital experience.
Learning Objectives
Competency
Inpatient RNs, LPNs, pharmacists, house officers, & hospitalists follow medication administration techniques known to reduce complications for the hospitalized patient with Parkinson's Disease.
Critical Behaviors
Identify medications that can lead to a worsening or exacerbation of symptoms, prolonging the hospital stay of patients with Parkinson's disease.
Administer appropriate medications on time, every time, to the hospitalized patient with Parkinson's disease.
About the Creators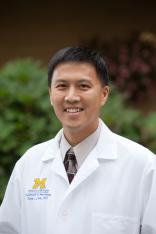 Kelvin L. Chou, M.D.
Dr. Chou is a Professor of Neurology and Neurosurgery at the University of Michigan (U-M), Co-Director of the STIM (Surgical Therapies Improving Movement) Program, and the Education and Outreach Core Director for the U-M Udall Center of Excellence for Parkinson's Disease. He received his medical degree from U-M Medical School, completed his neurology residency at the Hospital of the University of Pennsylvania in Philadelphia, and a movement disorders fellowship at Pennsylvania Hospital in Philadelphia. Dr. Chou's research is focused on improving the ability to treat movement disorders patients through deep brain stimulation (DBS).  Dr. Chou has also conducted numerous clinical trials on new therapies for movement disorders, including the NIH Exploratory Trials in Parkinson disease (NET-PD) initiative. He has published over 70 peer-reviewed journal articles on Parkinson's disease and related movement disorders and has authored a book for patients and families called Deep Brain Stimulation: A New Life for People with Parkinson's, Dystonia and Essential Tremor.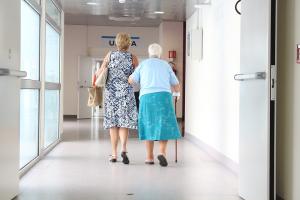 Jump to:
Exams

| Document Title | Creator | Downloads | License |
| --- | --- | --- | --- |
| Quiz - Improving Hospital Stays for Patients with Parkinson's Disease | Kelvin Chou | | |
Learning Objects

| Document Title | Creator | Downloads | License |
| --- | --- | --- | --- |
| Improving Hospital Stays for Patients with Parkinson's Disease Online Module | Kelvin Chou | | |