Citations and Attributions: Is there a Difference?
"Citation" and "Attribution" are often used as synonyms, but they mean two different things. Citation is a scholarly practice for tracking the ideological underpinnings of a work, usually referencing sources like published books, articles, government documents, primary sources, etc. Attribution is about crediting a copyright holder according to the terms of a copyright license, usually crediting artistic works like music, fiction, video, and photography.
Examples
The examples below provide some guidelines for both citations and attributions. Following these suggestions ensures you give due credit to other creators and demonstrates to people who find your content that you truly are a part of a global learning and sharing community. No matter the content, make sure you credit the creator, provide the URL where the work is hosted, indicate if it is available under a particular license, provide a link to the license (so others can find out the license terms), link to the original resource. 
For example: Open.Michigan, http://www.flickr.com/photos/openmichigan/5140136861/, CC:BY 2.0,http://creativecommons.org/licenses/by/2.0/.
Text Quotes 
It is important to cite all 3rd party (not created by you) content which includes things like quotations. What we were taught in high school still applies here; you should give at least the author's name and title of the work the quote is from. Bonus points if you include a page number or URL to an online version. See MLibrary's citation guidelines and research guide for useful formatting and citation resources. 
Flickr Image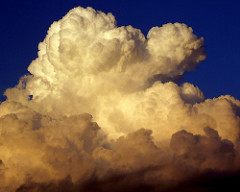 New Zealand, Clouds - 6.10pm
" by EssjayNZ - 
CC: BY-NC-SA
In the example to the right, the photographer Sarah Macmillan (username: EssjayNZ on Flickr) has chosen to share her images on Flickr under a Creative Commons BY-NC-SA license. You can reuse this image, according to the terms of the BY-NC-SA license, as long as you provide proper attribution.
Wikimedia Image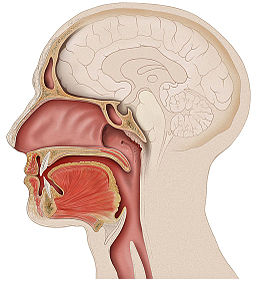 "
Head lateral mouth anatomy
" by Patrick Lynch - 
CC:BY
In this example, the illustrator Patrick Lynch has chosen to share his medical illustrations on Wikimedia Commons under a Creative Commons Attribution only license. The attribution style is very similar to the image from Flickr as both are CC licensed images available online.
Open.Michigan Content
Our website features academic content created by the University of Michigan community that you can use in your own research, teaching or learning experiences. We also have resources available to teach you how to share your own work. If you want to reference, use or adapt the works on this site, please remember to look at the type of license the author has chosen for his or her materials and abide by these terms. To cite these materials you can follow the APA guidelines for citing online course content. 
For example:
Stringer, K. Principles of Research and Problem Solving [material type, PowerPoint or PDF]. Retrieved from Open.Michigan Web site: http://open.umich.edu/find/open-educational-resources/pharmacy/pharm-476-principles-research-problem-solving