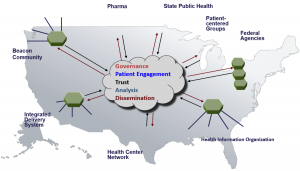 Term:
2013
Published:
Revised:
The conceptual structure for the course derives from the statement below that expresses the purpose of health informatics.
Health informatics applies to a wide range of health-related application domains a set of methods (drawn from the informational and behavioral sciences) to create and study informational resources that support the health-related activities of people (individuals and groups) in these domains. The methods employed in health informatics derive from both the computational/informational sciences and the behavioral/social sciences. 
This course, as an initial immersion into the field of health informatics, will examine the domains, methods, and classes of information resources that, together, create the scaffolding of the field. 
dScribe: Grant Boyer
Learning Objectives
Course Objectives Related to the Lecture/Discussion Channel: 
After completing this course students will be able to:
Describe the important challenges currently faced by individuals seeking to improve health in each of five key health domains, and describe how information resources, if properly developed and deployed, can help address these challenges. 
Explain how and why each of the key methods used in health informatics is essential to creating information resources that hold potential to improve health. 
For each of the health information resources introduced in course sessions, describe the specific mechanisms through which appropriate use of that resource can improve health.
Course Objectives Related to the Skill Module Channel
After completing this course students will be able to:
Carry out, using simulated patient data, specific tasks that are routinely required of end-users of electronic health record systems. 
Specify design characteristics of information resources that are capable of carrying out specific functions. 
Construct representations of health information using a specific document architecture and standardized concept representational schemas. 
About the Creators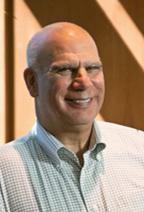 Charles P. Friedman
Charles Friedman joined UM as Professor and Director of the Health Informatics Program after 8 years of work for the federal government, prior to which he served for 26 years as a university faculty member and administrator. Most recently, Dr. Friedman held executive positions at the Office of the National Coordinator for Health IT (ONC) in the U.S. Department of Health and Human Services. From 2007 to 2009 he was Deputy National Coordinator and from 2009 to 2011 he was ONC's Chief Scientific Officer. While at ONC, Friedman oversaw a diverse portfolio of nationwide activities that included a "learning health system" supporting research, public health, and quality improvement; the health IT workforce development program; the SHARP health IT research program; initiatives in usability and clinical decision support; evaluation of ONC's programs; and international cooperation for eHealth. He was the lead author of the first national health IT strategic plan which was released in June of 2008.
From 2003 to 2006 he was a senior scholar at the National Library of Medicine and from 2006 to 2007, he served as Associate Director for Research Informatics and Information Technology of the National Heart, Lung and Blood Institute, also serving as the Institute's chief information officer.
Prior to his work in the government, Dr. Friedman was Professor, Associate Vice Chancellor for Biomedical Informatics, and Founding Director of the Center for Biomedical Informatics at the University of Pittsburgh. He was responsible for management of information resources across the university's six schools of the health sciences. The center Friedman established at Pitt subsequently became an academic department.
He also served for many years in a range of faculty and administrative roles at the University of North Carolina at Chapel Hill. He was a professor in the departments of biomedical engineering and family medicine in the School of Medicine; he directed the Office of Educational Development and served as Assistant Dean for Medical Education and Medical Informatics. 
In July 2014, Dr. Friedman became the Chair of the Department of Learning Health Sciences in the Medical School. more...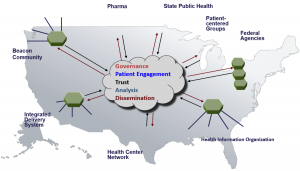 Term:
2013
Published:
Revised:
Syllabus

| Document Title | Creator | Downloads | License |
| --- | --- | --- | --- |
| | Charles P. Friedman | | |
Handouts

| Document Title | Creator | Downloads | License |
| --- | --- | --- | --- |
| | Charles P. Friedman | | |
Lectures

| Document Title | Creator | Downloads | License |
| --- | --- | --- | --- |
| | Charles P. Friedman | | |
| | Andrew Rosenberg | | |
| Week 02: Motivation Lecture for Skill Module 1 EHRs / VistA | Charles P. Friedman | | |
| Week 02: National Infrastructure and Learning Health System | Charles P. Friedman | | |
| | Victor Strecher | | |
| | David Mendez | | |
| | Brian Athey | | |
| Week 05: Health Information Exchange and Interoperability | Allen Flynn | | |
| Week 06: Motivation Lecture for Skill Module 2 Elements & Functions of Information Systems | Allen Flynn | | |
| Week 07: Knowledge Representation | Charles P. Friedman | | |
| Week 08: Information Retrieval and Natural Language Processing | David Hanauer | | |
| Week 09: Imaging and Image Analysis | Charles P. Friedman | | |
| Week 09: Motivation Lecture for Skill Module 3 Health IT Standards | Allen Flynn | | |
| Week 10: Organization and Management | Genna Cohen | | |
| Week 10: Policy Development and Analysis | Julia Alder-Milstein | | |
| Week 11: Cognition and Computer-Human Interaction | Charles P. Friedman | | |
| Week 12: Evaluation in Health Informatics | Allen Flynn | | |
| Week 12: Quality Measurement | Scott Campbell | | |
| Week 13: Theories of Behavioral Change | Tiffany Veinot | | |
| Week 14: Computerized Physician Order Entry | Allen Flynn | | |
| Week 15: Research and Educational Apps | Ted Hanss | | |