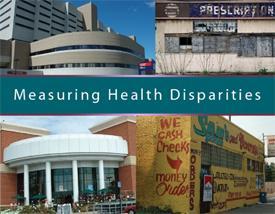 Term:
Fall 2007
Published:
Revised:
Measuring Health Disparities is designed to be accessible to a broad audience of practitioners across all sectors of the public health workforce. In contains audio and interactive elements and focuses on some basic issues for public health practice - how to understand, define, and measure health disparity.
The material is divided into four parts. Parts One and Two review what health disparities are, how they are defined, and provide and overview of common issues faced in measuring health disparities. Part Three is technical and introduces users to a range of health disparity measures, providing advantages and disadvantages of each. Part Four discusses how best to use different measures to communicate and evaluate health disparity in our communities. Parts Three and Four are more technical and, though not necessary, it is helpful to have a background in statistics, epidemiology or other sciences for ease of understanding. See the Measuring Health Disparities website for more information about this course.
Instructors: Sam Harper and John Lynch
dScribes: Pieter Kleymeer, Hung Truong
Course level: Graduate
Course Structure: This is a self-paced, interactive CD-ROM course. The complete Measuring Health Disparities course is available as a Windows executable download.
Syllabus
Learning Objectives
Learning Outcomes
Reading List
About the Creators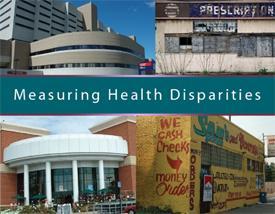 Term:
Fall 2007
Published:
Revised:
Syllabus

Document Title
Creator
Downloads
License

Sam Harper

John Lynch
Handouts

Document Title
Creator
Downloads
License

Sam Harper

John Lynch

Resource and Reading List

Sam Harper

John Lynch

Summary of Commonly Used Measures

Sam Harper

John Lynch
Lectures

Document Title
Creator
Downloads
License

Sam Harper

John Lynch

Sam Harper

John Lynch

Sam Harper

John Lynch

Sam Harper

John Lynch

Sam Harper

John Lynch
Supplemental Readings

Document Title
Creator
Downloads
License

A Summary Measure of Health Disparity

Jeffrey N. Pearcy

Kennetch G. Keppel

Area Socioeconomic Variations in U.S. Cancer Incidence, Mortality, Stage, Treatment, and Survival, 1975–1999

Gopal K. Singh

Barry A. Miller

Benjamin F. Hankey

Brenda K. Edwards

Education Differentials in Mortality: United States, 1979-85 (Abstract)

Irma T. Elo

Samuel H. Preston

Inequality Aversion, Health Inequalities and Health Achievement

Adam Wagstaff

Measuring Socioeconomic Mortality Differentials Over Time

Harriet Orcutt Duleep

Measuring the Magnitude of Socio-Economic Inequalities in Health: An Overview of Available Measures Illustrated with Two Examples from Europe (Abstract)

Johan P. Mackenbach

Anton E. Kunst

On the Measurement of Inequalities in Health (Abstract)

Adam Wagstaff

Pierella Paci

Eddy van Doorslaer

Socioeconomic Inequalities in Health: Measurement, Computation, and Statistical Inference (Abstract)

Nanak Kakwani

Adam Wagstaff

Eddy van Doorslaer

The Increasing Disparity in Mortality between Socioeconomic Groups in the United States, 1960 and 1986

Gregory Pappas

Susan Queen

Wilbur Hadden

Gail Fisher

Trends in Health Life Expectancy in the United States, 1970-1990: Gender, Racial and Educational Differences (Abstract)

Eileen M. Crimmins

Yasuhiko Saito

Trends in Racial and Ethnic-Specific Rates for the Health Status Indicators: United States, 1990-98

Kenneth G. Keppel

Jeffrey N. Pearcy

Diane K. Wagener