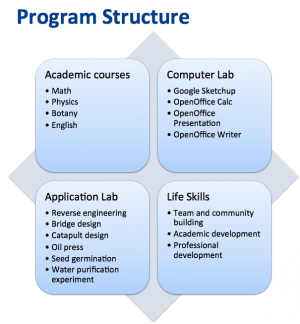 Summer Start is an annual four-week intensive program for first- and second-year engineering and agriculture students at University of Liberia and Cuttington University. The course, which brings together 80-120 students, is modeled after the M-STEM program at University of Michigan. All students participate in academic courses in Math, Physics, Botany, and English, a life skills course focused on professional development and community building, and a computer lab. Additionally, there are hands-on applications lab for engineering and agriculture. 
 
Summer Start is part of the USAID-funded Excellence in Higher Education for Liberian Development project (EHELD).
 
Participating Institutions: RTI International (lead contractor for project), University of Michigan (lead for Summer Start course), Cuttington University, University of Liberia, Rutgers University, North Carolina State University.
 
Staff: See About the Creators section below. 
 
Acknowledgements: This publication is made possible by the generous support of the American people through the United States Agency for International Development (USAID) under the Excellence in Higher Education for Liberian Development (EHELD) project, USAID Agreement Number 669-A-00-11-00035.
About the Creators
2012 Staff
*Affiliated with the University of Michigan unless otherwise noted.
 
Authors of Course Manual
• Jose Alfaro
• Sara Rimer
• Brieland Jones
• Mim Jones
• Sibu Kuruvilla
• Sahitya Reddivari
• David R. Johnson
• Brian Wybrecht
• Alberto Lozano
• Sibu Kuruvilla
• Aisha Moinuddin
• Sarah Scott
• Ryan Smith
• Lindy Alfaro
• Lauren Stadler
 
Formatting of Document
• Yue Hou
• Kathleen Omollo
 
Course Instructors
• Jose Alfaro
• Sara Rimer
• Brieland Jones
• Mim Jones
• Ryan Smith
• Bonnie Shirley
• Lindy Alfaro
• Stephanie Nys (U.S. Peace Corps)
• Ryan McLaughlin (U.S. Peace Corps)
• Emily Floess (U.S. Peace Corps)
• Alex Abbondola (U.S. Peace Corps)
• Emmett Dennis (University of Liberia)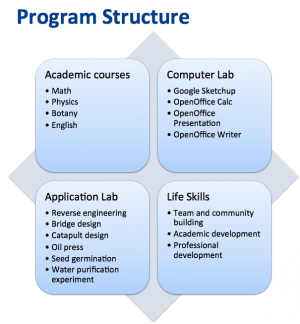 Syllabus

| Document Title | Creator | Downloads | License |
| --- | --- | --- | --- |
| | Summer Start 2012 Staff | | |
Exercises

| Document Title | Creator | Downloads | License |
| --- | --- | --- | --- |
| Computer Lab: Presentations Tutorial for Open Office | Tutorials for OpenOffice | | |
| Computer Lab: Spreadsheets Tutorial for Open Office | Tutorials for OpenOffice | | |
| Computer Lab: Word Processing Tutorial for Open Office | Tutorials for OpenOffice | | |
| Life Skills: A Role Play on Choices | Morningside Center for Teaching Social Responsibility | | |
| Life Skills: Dealing with Stereotyping, Prejudice, Discrimination, and Scapegoating, by William J. Kreidler | Educators for Social Responsibility, Allyn and Bacon | | |
| Life Skills: Discussion Questions | Educators for Social Responsibility | | |
Handouts

Document Title
Creator
Downloads
License

Agriculture, General: List of Open Educational Resources

Kathleen Omollo

Agriculture, Rice Production: List of Open Educational Resources

Kathleen Omollo

Alternative Energy: List of Open Educational Resources

Kathleen Omollo

Computers, Open Office Suite: List of Open Educational Resources

Kathleen Omollo

Electrical Engineering, List of Open Educational Resources

Kathleen Omollo

Engineering Graphics: List of Open Educational Resources

Kathleen Omollo

Engineering Labs: List of Open Educational Resources

Kathleen Omollo

Engineering: List of Open Textbooks

Kathleen Omollo

Paul Grochowski

English as a Second Language: List of Free Educational Resources

Kathleen Omollo

Hydroponics and Aquaponics: List of Open Educational Resources

Kathleen Omollo

Irrigation Systems: List of Open Educational Resources

Kathleen Omollo

Life Skills, List of Open Educational Resources

Kathleen Omollo

Math: List of Free Educational Games

Kathleen Omollo

Math: List of Open Educational Resources (see other list for textbooks)

Kathleen Omollo

Oil Press: List of Open Educational Resources

Kathleen Omollo

Technical Writing: List of Open Educational Resources

Kathleen Omollo
Labs

| Document Title | Creator | Downloads | License |
| --- | --- | --- | --- |
| Applications Lab - Agriculture: Build Your Own Aquifer | Louisiana Department of Environmental Quality | | |
| Applications Lab - Agriculture: Make a Mini Water Cycle | The Water Project Inc. | | |
| Applications Lab - Agriculture: Water Distribution Experiment | TryEngineering.org | | |
| Applications Lab - Agriculture: Water Purification Experiment | LearningToGive.org | | |
Lectures

| Document Title | Creator | Downloads | License |
| --- | --- | --- | --- |
| 2012: Career Opportunities in Agriculture | Albert Ayeni | | |
| 2012: Introduction to Life Skills | Lindy Alfaro | | |
| 2012: Vision for a Liberian Center of Excellence for Agriculture | Albert Ayeni | | |
Miscellaneous

Document Title
Creator
Downloads
License

2011: Summer Start Staff Blog

Summer Start 2011 Staff

2012: Fast and Summer Start Staff Blog

Fast Start 2012 Staff

Summer Start 2012 Staff
Supplemental Readings

Document Title
Creator
Downloads
License

Agriculture: Applying the Principles of Sustainable Farming, Appropriate Technology Transfer for Rural Areas, P. Sullivan, National Sustainable Agriculture Information Center (USDA). 1-16.

National Sustainable Agriculture Information Center

Agriculture: Appropriate Technology Transfer for Rural Areas, National Sustainable Agriculture Information Center (USDA)

Integrated Pest Management (IPM)

Agriculture: Biointensive Integrated Pest Management (IPM)

Rex Dufour

Agriculture: Biological Control of Plant Pathogens

Kamal Krishna Pal, Brian McSpadden Gardener

Agriculture: Challenges for weed management in African rice systems in a changing climate

J. Rodenburg

H. Meinke

D.E. Johnson

Agriculture: Contributions of agroforestry to ecosystem services in the miombo eco-region of eastern and southern Africa

Gudeta Sileshi

Festus Akinnifesi

Oluyede Ajayi

Sebastian Chakeredza

Martin Kaonga

P.W. Matakala

Agriculture: Crop-animal systems in Asia: socio-economic benefits and impacts on rural livelihoods, Agricultural Systems, 71: 147-168, by Thelma Paris

Agricultural Systems

Agriculture: Enterprise Budgets in Farm Management

University of Maryland

Agriculture: Evolution, consequences and future of plant and animal domestication, Nature, 418:700-707, by Jared Diamond

Jared Diamond

Agriculture: Irrigation Systems

Colorado River Water Conservation District

Agriculture: Land degradation and food security

H. Nabhan

Agriculture: Linking agricultural biodiversity and food security - the valuable role of agrobiodiversity for sustainable agriculture

Lori Ann Thrupp

Agriculture: Montfort Boys' Town

Gale Group

Agriculture: Simple Soil, Water, and Plant Testing Techniques for Soil Resource Management. FAO training course proceedings.

J.A. Adepetu

H. Nabhan

A. Osinubi

Agriculture: Soil conversation and water management

G. Kirchhof

Agriculture: Soil sampling and sample preparation

J.A. Adepetu

Agriculture: Yield of tomato grown under continuous-flow drip irrigation in Bauchi state of Nigeria

A.L.E.Mofoke

J.K. Adewumi

F.E. Babatunde

O.J. Mudiare

A.A. Ramalan

Agricuture: Overview of production constraints - physical, chemical and nutrient dynamics

H. Grime

Applications Lab - Agriculture: Lesson Focus, Lesson Synopsis, Student Worksheet including Ethical Implications and Design Your Own Irrigation Systems

IEEE

Applications Lab - Agriculture: The Different Irrigation Systems and Their Uses

Colorado River Water Conservation District

Computer Lab: Finding Information on the Internet

Pearson Education, Inc.

Computer Lab: History of Computers

John Kopplin

Computer Lab: How to Write a Research Paper

Pearson Education, Inc.

Computer Lab: Liberians hope long wait for the web is finally over By Bonnie Allen and Rob Hugh-Jone

PRI's The World, BBC

Computer Lab: Plagiarism, by Holly Hartman

Pearson Education, Inc.

Computer Lab: Preparing and Delivering Oral Presentations

The Cain Project in Engineering and Professional Communication

Computer Lab: Reap the Benefits of Good Typing Skills

Tech Media Network website

Computer Lab: The History of the Internet in a Nutshell by Cameron Chapman

Six Revisions

Computer Lab: The Importance of Daily Typing Practice, Burt Cotton

Articles3K.com

Computer Lab: Using Search Engines

Pearson Education, Inc.

Computer Lab: What is the Internet

www.yourmaindomain.com

Computer Lab: Why is better typing productive for business and employees?

Typing Institute of America

English: Establish Your Topic

Pearson Education, Inc.

English: Evaluating Web Information

Pearson Education, Inc.

English: Look for Sources of Information

Pearson Education, Inc.

English: Organize Your Ideas

Pearson Education, Inc.

English: Presenting Your Information

Pearson Education, Inc.

English: Proofread the Final Draft

Pearson Education, Inc.

English: Read Your Sources and Take Notes

Pearson Education, Inc.

English: Reading on the Web

Pearson Education, Inc.

English: Recording and Organizing Information

Pearson Education, Inc.

English: Revise the First Draft

Pearson Education, Inc.

English: Use Footnotes or Endnotes to Document Sources

Pearson Education, Inc.

English: What is and what is not plagiarism

Pearson Education, Inc.

English: Write a First Draft

Pearson Education

Life Skills: "Engineers wanted" example job posting

Polar Bear Farm, Ltd.

Life Skills: Addressing the Selection Criteria in Job Search

Claire Thomas

Life Skills: Agribusiness Systems

College Foundation, Inc.

Life Skills: Agriculture, Food, and Natural Resources Career Cluster

Illinois Community College Board

Life Skills: Animal Geneticist

Purdue University College of Agriculture

Life Skills: Animal Nutritionist

Purdue University

Life Skills: Animal Systems – Production Animals

Clayton County High School

Life Skills: Aquaculturist

Farlex Inc.

Life Skills: Be Open to New Possibilities

Department of Training and Workforce Development

Life Skills: Be Prepared & Organized

Department of Training and Workforce Development

Life Skills: Career Pathways: Environmental Service Systems

College Foundation, Inc.

Life Skills: Changing Gender Roles and Transforming Economies

University of Florida George A. Smathers Libraries

Life Skills: Communication Skills

Palo Alto Medical Foundation

Life Skills: Development Approaches, Participatory Analysis for Community Action (PACA) Training Manual

U.S. Peace Corps

Life Skills: eGFI cards for types of engineering

American Society for Engineering Education

Life Skills: Eight Things to do to Practice Better Communication

Palo Alto Medical Foundation

Life Skills: Example of how to address job posting selection criteria

Tangient LLC

Life Skills: Forest Management

College Majors 101

Life Skills: Gender and development vocabulary and definitions

PEACE CORPS

Life Skills: Gender Development

Marianne Schmink

Life Skills: Job Search Guide (2010)

Government of Western Australia Department of Training and Workforce Development

Life Skills: Job Search Guide (2011)

Government of Western Australia Department of Training and Workforce Development

Life Skills: Job Search Help

Eastern Region Employment & Community Services Inc.

Life Skills: Many Ways to Resolve Conflict

Pearson Education, Inc.

Life Skills: Meet the Engineering Disciplines Flashcards Worksheet

American Society for Engineering Education

Life Skills: Occupational Outlook Handbook, 2012, Architecture and Engineering Occupations

Bureau of Labor Statistics, U.S. Department of Labor

Life Skills: Occupational Outlook Handbook, 2012, Farming, Fishing, and Forestry Occupations

Bureau of Labor Statistics, U.S. Department of Labor

Life Skills: Plant Pathologist

Georgia Agriculture Education

Life Skills: Prejudice Situations

Educators for Social Responsibility

Life Skills: Preparing Your Resume

Eastern Region Employment & Community Services Inc.

Life Skills: Recognize Your skills & Abilities

Department of Training and Workforce Development

Life Skills: Research Paper Chase, Excerpted from The Complete Idiot's Guide to Writing Well

Laurie Rozakis

Life Skills: Resolution Vocabulary

Quizlet

Life Skills: Sample Cover Letters

xiaoyounan

Life Skills: Sample Resumes

http://gate07.wikispaces.com/

Life Skills: Soil Scientist, Beyond the Farm - Ag Careers in Science and Technology

FrazierHeiby, Inc.

Life Skills: The Changing World of Work

Department of Training and Workforce Development

Life Skills: Types of Engineering

American Society for Engineering Education

Life Skills: Under the Microscope: Plant Breeders

Biotechnology Jobs in California, Employment Development Department State of California

Life Skills: Women in Development (WID), Gender and Development (GAD), from Participatory Analysis for Community Action (PACA) manual

U.S. Peace Corps
Texts

| Document Title | Creator | Downloads | License |
| --- | --- | --- | --- |
| 2012: Summer Start Manual for New Students | Summer Start 2012 Staff | | |
| 2012: Summer Start Manual for New Students - Teacher's Edition | Summer Start 2012 Staff | | |
| 2012: Summer Start Manual for Returning Students | Summer Start 2012 Staff | | |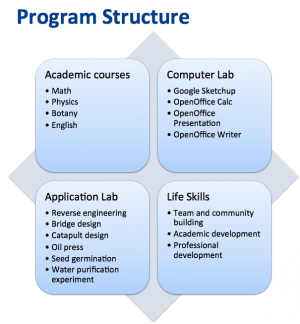 Applications Lab - Agriculture

Document Title
Creator
Downloads
License

2012: Career Opportunities in Agriculture

Albert Ayeni

2012: Vision for a Liberian Center of Excellence for Agriculture

Albert Ayeni

Agriculture, General: List of Open Educational Resources

Kathleen Omollo

Agriculture, Rice Production: List of Open Educational Resources

Kathleen Omollo

Agriculture: Applying the Principles of Sustainable Farming, Appropriate Technology Transfer for Rural Areas, P. Sullivan, National Sustainable Agriculture Information Center (USDA). 1-16.

National Sustainable Agriculture Information Center

Agriculture: Appropriate Technology Transfer for Rural Areas, National Sustainable Agriculture Information Center (USDA)

Integrated Pest Management (IPM)

Agriculture: Biointensive Integrated Pest Management (IPM)

Rex Dufour

Agriculture: Biological Control of Plant Pathogens

Kamal Krishna Pal, Brian McSpadden Gardener

Agriculture: Challenges for weed management in African rice systems in a changing climate

J. Rodenburg

H. Meinke

D.E. Johnson

Agriculture: Contributions of agroforestry to ecosystem services in the miombo eco-region of eastern and southern Africa

Gudeta Sileshi

Festus Akinnifesi

Oluyede Ajayi

Sebastian Chakeredza

Martin Kaonga

P.W. Matakala

Agriculture: Crop-animal systems in Asia: socio-economic benefits and impacts on rural livelihoods, Agricultural Systems, 71: 147-168, by Thelma Paris

Agricultural Systems

Agriculture: Enterprise Budgets in Farm Management

University of Maryland

Agriculture: Evolution, consequences and future of plant and animal domestication, Nature, 418:700-707, by Jared Diamond

Jared Diamond

Agriculture: Irrigation Systems

Colorado River Water Conservation District

Agriculture: Land degradation and food security

H. Nabhan

Agriculture: Linking agricultural biodiversity and food security - the valuable role of agrobiodiversity for sustainable agriculture

Lori Ann Thrupp

Agriculture: Montfort Boys' Town

Gale Group

Agriculture: Simple Soil, Water, and Plant Testing Techniques for Soil Resource Management. FAO training course proceedings.

J.A. Adepetu

H. Nabhan

A. Osinubi

Agriculture: Soil conversation and water management

G. Kirchhof

Agriculture: Soil sampling and sample preparation

J.A. Adepetu

Agriculture: Yield of tomato grown under continuous-flow drip irrigation in Bauchi state of Nigeria

A.L.E.Mofoke

J.K. Adewumi

F.E. Babatunde

O.J. Mudiare

A.A. Ramalan

Agricuture: Overview of production constraints - physical, chemical and nutrient dynamics

H. Grime

Alternative Energy: List of Open Educational Resources

Kathleen Omollo

Applications Lab - Agriculture: Build Your Own Aquifer

Louisiana Department of Environmental Quality

Applications Lab - Agriculture: Lesson Focus, Lesson Synopsis, Student Worksheet including Ethical Implications and Design Your Own Irrigation Systems

IEEE

Applications Lab - Agriculture: Make a Mini Water Cycle

The Water Project Inc.

Applications Lab - Agriculture: The Different Irrigation Systems and Their Uses

Colorado River Water Conservation District

Applications Lab - Agriculture: Water Distribution Experiment

TryEngineering.org

Applications Lab - Agriculture: Water Purification Experiment

LearningToGive.org

Hydroponics and Aquaponics: List of Open Educational Resources

Kathleen Omollo

Irrigation Systems: List of Open Educational Resources

Kathleen Omollo
Applications Lab - Engineering

Document Title
Creator
Downloads
License

Electrical Engineering, List of Open Educational Resources

Kathleen Omollo

Engineering Graphics: List of Open Educational Resources

Kathleen Omollo

Engineering Labs: List of Open Educational Resources

Kathleen Omollo

Engineering: List of Open Textbooks

Kathleen Omollo

Paul Grochowski

Oil Press: List of Open Educational Resources

Kathleen Omollo
Computer Lab

| Document Title | Creator | Downloads | License |
| --- | --- | --- | --- |
| Computer Lab: Finding Information on the Internet | Pearson Education, Inc. | | |
| Computer Lab: History of Computers | John Kopplin | | |
| Computer Lab: How to Write a Research Paper | Pearson Education, Inc. | | |
| Computer Lab: Liberians hope long wait for the web is finally over By Bonnie Allen and Rob Hugh-Jone | PRI's The World, BBC | | |
| Computer Lab: Plagiarism, by Holly Hartman | Pearson Education, Inc. | | |
| Computer Lab: Preparing and Delivering Oral Presentations | The Cain Project in Engineering and Professional Communication | | |
| Computer Lab: Presentations Tutorial for Open Office | Tutorials for OpenOffice | | |
| Computer Lab: Reap the Benefits of Good Typing Skills | Tech Media Network website | | |
| Computer Lab: Spreadsheets Tutorial for Open Office | Tutorials for OpenOffice | | |
| Computer Lab: The History of the Internet in a Nutshell by Cameron Chapman | Six Revisions | | |
| Computer Lab: The Importance of Daily Typing Practice, Burt Cotton | Articles3K.com | | |
| Computer Lab: Using Search Engines | Pearson Education, Inc. | | |
| Computer Lab: What is the Internet | www.yourmaindomain.com | | |
| Computer Lab: Why is better typing productive for business and employees? | Typing Institute of America | | |
| Computer Lab: Word Processing Tutorial for Open Office | Tutorials for OpenOffice | | |
| Computers, Open Office Suite: List of Open Educational Resources | Kathleen Omollo | | |
Course Manual

| Document Title | Creator | Downloads | License |
| --- | --- | --- | --- |
| 2012: Summer Start Manual for New Students | Summer Start 2012 Staff | | |
| 2012: Summer Start Manual for New Students - Teacher's Edition | Summer Start 2012 Staff | | |
| 2012: Summer Start Manual for Returning Students | Summer Start 2012 Staff | | |
English

| Document Title | Creator | Downloads | License |
| --- | --- | --- | --- |
| | Summer Start 2012 Staff | | |
| English as a Second Language: List of Free Educational Resources | Kathleen Omollo | | |
| English: Establish Your Topic | Pearson Education, Inc. | | |
| English: Evaluating Web Information | Pearson Education, Inc. | | |
| English: Look for Sources of Information | Pearson Education, Inc. | | |
| English: Organize Your Ideas | Pearson Education, Inc. | | |
| English: Presenting Your Information | Pearson Education, Inc. | | |
| English: Proofread the Final Draft | Pearson Education, Inc. | | |
| English: Read Your Sources and Take Notes | Pearson Education, Inc. | | |
| English: Reading on the Web | Pearson Education, Inc. | | |
| English: Recording and Organizing Information | Pearson Education, Inc. | | |
| English: Revise the First Draft | Pearson Education, Inc. | | |
| English: Use Footnotes or Endnotes to Document Sources | Pearson Education, Inc. | | |
| English: What is and what is not plagiarism | Pearson Education, Inc. | | |
| English: Write a First Draft | Pearson Education | | |
| Technical Writing: List of Open Educational Resources | Kathleen Omollo | | |
Life Skills

| Document Title | Creator | Downloads | License |
| --- | --- | --- | --- |
| Life Skills, List of Open Educational Resources | Kathleen Omollo | | |
| Life Skills: "Engineers wanted" example job posting | Polar Bear Farm, Ltd. | | |
| Life Skills: A Role Play on Choices | Morningside Center for Teaching Social Responsibility | | |
| Life Skills: Addressing the Selection Criteria in Job Search | Claire Thomas | | |
| Life Skills: Agribusiness Systems | College Foundation, Inc. | | |
| Life Skills: Agriculture, Food, and Natural Resources Career Cluster | Illinois Community College Board | | |
| Life Skills: Animal Geneticist | Purdue University College of Agriculture | | |
| Life Skills: Animal Nutritionist | Purdue University | | |
| Life Skills: Animal Systems – Production Animals | Clayton County High School | | |
| Life Skills: Aquaculturist | Farlex Inc. | | |
| Life Skills: Be Open to New Possibilities | Department of Training and Workforce Development | | |
| Life Skills: Be Prepared & Organized | Department of Training and Workforce Development | | |
| Life Skills: Career Pathways: Environmental Service Systems | College Foundation, Inc. | | |
| Life Skills: Changing Gender Roles and Transforming Economies | University of Florida George A. Smathers Libraries | | |
| Life Skills: Communication Skills | Palo Alto Medical Foundation | | |
| Life Skills: Dealing with Stereotyping, Prejudice, Discrimination, and Scapegoating, by William J. Kreidler | Educators for Social Responsibility, Allyn and Bacon | | |
| Life Skills: Development Approaches, Participatory Analysis for Community Action (PACA) Training Manual | U.S. Peace Corps | | |
| Life Skills: Discussion Questions | Educators for Social Responsibility | | |
| Life Skills: eGFI cards for types of engineering | American Society for Engineering Education | | |
| Life Skills: Eight Things to do to Practice Better Communication | Palo Alto Medical Foundation | | |
| Life Skills: Example of how to address job posting selection criteria | Tangient LLC | | |
| Life Skills: Forest Management | College Majors 101 | | |
| Life Skills: Gender and development vocabulary and definitions | PEACE CORPS | | |
| Life Skills: Gender Development | Marianne Schmink | | |
| Life Skills: Job Search Guide (2010) | Government of Western Australia Department of Training and Workforce Development | | |
| Life Skills: Job Search Guide (2011) | Government of Western Australia Department of Training and Workforce Development | | |
| Life Skills: Job Search Help | Eastern Region Employment & Community Services Inc. | | |
| Life Skills: Many Ways to Resolve Conflict | Pearson Education, Inc. | | |
| Life Skills: Meet the Engineering Disciplines Flashcards Worksheet | American Society for Engineering Education | | |
| Life Skills: Occupational Outlook Handbook, 2012, Architecture and Engineering Occupations | Bureau of Labor Statistics, U.S. Department of Labor | | |
| Life Skills: Occupational Outlook Handbook, 2012, Farming, Fishing, and Forestry Occupations | Bureau of Labor Statistics, U.S. Department of Labor | | |
| Life Skills: Plant Pathologist | Georgia Agriculture Education | | |
| Life Skills: Prejudice Situations | Educators for Social Responsibility | | |
| Life Skills: Preparing Your Resume | Eastern Region Employment & Community Services Inc. | | |
| Life Skills: Recognize Your skills & Abilities | Department of Training and Workforce Development | | |
| Life Skills: Research Paper Chase, Excerpted from The Complete Idiot's Guide to Writing Well | Laurie Rozakis | | |
| Life Skills: Resolution Vocabulary | Quizlet | | |
| Life Skills: Sample Cover Letters | xiaoyounan | | |
| Life Skills: Sample Resumes | http://gate07.wikispaces.com/ | | |
| Life Skills: Soil Scientist, Beyond the Farm - Ag Careers in Science and Technology | FrazierHeiby, Inc. | | |
| Life Skills: The Changing World of Work | Department of Training and Workforce Development | | |
| Life Skills: Types of Engineering | American Society for Engineering Education | | |
| Life Skills: Under the Microscope: Plant Breeders | Biotechnology Jobs in California, Employment Development Department State of California | | |
| Life Skills: Women in Development (WID), Gender and Development (GAD), from Participatory Analysis for Community Action (PACA) manual | U.S. Peace Corps | | |
Mathematics

| Document Title | Creator | Downloads | License |
| --- | --- | --- | --- |
| Math: List of Free Educational Games | Kathleen Omollo | | |
| Math: List of Open Educational Resources (see other list for textbooks) | Kathleen Omollo | | |