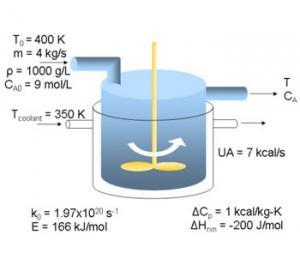 Term:
Fall 2008
Published:
Revised:
MERLOT: Multimedia Educational Resource for Learning and Online Teaching
This course uses an open textbook University of Michigan Chemical Engineering Process Dynamics and Controls. The articles in the open textbook (wikibook) are all written by teams of 3-4 senior chemical engineering students, and are peer-reviewed by other members of the class. Using this approach, the faculty and Graduate Student Instructors (GSIs) teaching the course act as managing editors, selecting broad threads for the text and suggesting references. In contrast to other courses, the students take an active role in their education by selecting which material in their assigned section is most useful and decide on the presentation approach. Furthermore, students create example problems that they present in poster sessions during class to help the other students master the material.
This project is a collaboration between the faculty and students of the University of Michigan chemical engineering department. The goal of this project is to provide the greater chemical engineering community with a useful, relevant, high quality, and free resource describing chemical process control and modeling. Initial construction of this resource began in Fall 2006, and will continue in future years with other groups of students. 
Please refer to the course wikibook for additional Chem 466 materials, including video files, which are not included here.
Instructor: Peter Woolf
Course Level: Undergraduate
Course Structure: Two hour lecture, twice a week
Available on: iTunes U and YouTube
This book is available as volume I and volume II through University of Michigan Library's Print-On-Demand Service with Espresso Book Machine. This service is only available for individuals within the Ann Arbor area.
Syllabus
Learning Objectives
Reading List
About the Creators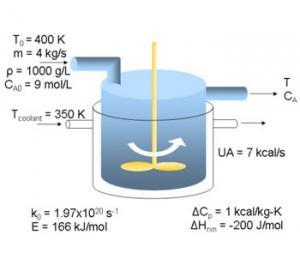 Term:
Fall 2008
Published:
Revised:
Syllabus

| Document Title | Creator | Downloads | License |
| --- | --- | --- | --- |
| | Peter J. Woolf | | |
Handouts

| Document Title | Creator | Downloads | License |
| --- | --- | --- | --- |
| | Peter J. Woolf | | |
Lectures

| Document Title | Creator | Downloads | License |
| --- | --- | --- | --- |
| Complete lecture series available on iTunes U (Video Podcast) | Peter J. Woolf | | |
| Complete lecture series available on YouTube | Peter J. Woolf | | |
Texts

Document Title
Creator
Downloads
License

Chemical Process Dynamics and Controls - Complete Textbook

Peter J. Woolf

Student Authors

Chemical Process Dynamics and Controls - Textbook Part 1 - Order a Print Version from Espresso Book Machine (available only within the Ann Arbor area)

Peter J. Woolf

Student Authors

Chemical Process Dynamics and Controls - Textbook Part 2 - Order a Print Version from Espresso Book Machine (available only within the Ann Arbor area)

Peter J. Woolf

Student Authors