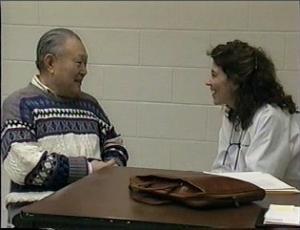 Term:
2007
Published:
Revised:
The materials in this resource represent a curriculum for teaching effective patient communication to dentistry students. These techniques could be useful for other healthcare providers, as well: medical students, nursing students, public health providers, and in-practice health care providers. There are two main types of materials here: performance keys and videos.
Performance Keys are text documents that articulate key patient interaction skills, and give examples of more and less effective techniques. The keys can function as rubrics for model interactions. Some suggestions for using performance keys include:
Have students watch videos of staged interactions between a professional and a standardized patient (actor), then evaluate the video according to the performance key.
Videotape students interacting with a standardized patient, then have them evaluate their own performance according to the performance keys.
Faculty can use the performance keys as rubrics for assessing students' interaction with real or standardized patients.
The videos in this resource are staged interactions between a faculty member and a standardized patient. There are two versions of each interaction given - one that follows the performance keys, and one that does not. The differences in patient responsiveness, patient-provider rapport, and the resulting treatment plan are dramatic. You might use the videos in a number of ways:
Play the videos in class as a demonstration in support of your lecture.
Use the videos as the basis for class discussion - not telling students beforehand which is the "good" and "bad" version of the interaction.
Have students use the performance keys to "grade" the practitioners in the videos.
Have students watch the videos and lists of "do's" and "don'ts" for interacting with patients.
Marilyn Guenther would like to thank Mark Fitzgerald and Marilyn Lantz for their contributions, collaboration and editing of the Performance Keys. The following texts were used as resources during the development of these materials:
Desmond Joanne,Copeland Lanny R, M.D.,Communicating With Today's Patient, Josey-Bass, Inc., 2000.
Kurtz Suzanne, Silverman Jonathan, Draper Juliet, Teaching and Learning Communication Skills in Medicine, Radcliffe Medical Press,1998.
Silverman Jonathan, Kurtz Suzanne, Draper Juliet, Skills for Communicating with Patients, Radcliffe Medical Press, 1998.
Instructions
Note about Performance Keys:
Performance Keys are text documents that articulate key patient interaction skills, and give examples of more and less effective techniques. The keys can function as rubrics for model interactions. Some suggestions for using performance keys include:
Have students watch videos of staged interactions between a professional and a standardized patient (actor), then evaluate the video according to the performance key
Videotape students interacting with a standardized patient, then have them evaluate their own performance according to the performance keys
Faculty can use the performance keys as rubrics for assessing students' interaction with real or standardized patients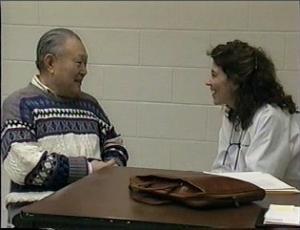 Term:
2007
Published:
Revised:
Demos

| Document Title | Creator | Downloads | License |
| --- | --- | --- | --- |
| Demo of less effective cross-cultural communication | Marilyn Guenther, M.S. | | |
| Demo of more effective cross-cultural communication | Marilyn Guenther, M.S. | | |
| Patient Communication Demo: Crown vs. Filling 1 | Marilyn Guenther, M.S. | | |
| Patient Communication Demo: Crown vs. Filling 2 | Marilyn Guenther, M.S. | | |
| Patient Communication Demo: TMD 1a | Marilyn Guenther, M.S. | | |
| Patient Communication Demo: TMD 1b | Marilyn Guenther, M.S. | | |
| Patient Communication Demo: TMD 2a | Marilyn Guenther, M.S. | | |
| Patient Communication Demo: TMD 2b | Marilyn Guenther, M.S. | | |
| Patient Communication Demo: TMD 3a | Marilyn Guenther, M.S. | | |
| Patient Communication Demo: TMD 3b | Marilyn Guenther, M.S. | | |
Handouts

| Document Title | Creator | Downloads | License |
| --- | --- | --- | --- |
| cross-cultural-communication-performance-key.pdf | Marilyn Guenther, M.S. | | |
| definition-of-performance-keys.pdf | Marilyn Guenther, M.S. | | |
| enhancing-the-development-of-cross-cultural.ppt | Marilyn Guenther, M.S. | | |
| focus-model-of-performance-keys.pdf | Marilyn Guenther, M.S. | | |
| giving-a-second-opinion-performance-key.pdf | Marilyn Guenther, M.S. | | |
| health-education-performance-key.pdf | Marilyn Guenther, M.S. | | |
| | Marilyn Guenther, M.S. | | |
| patient-baseline-performance-key.pdf | Marilyn Guenther, M.S. | | |
| patient-interaction-strategies-table.pdf | Marilyn Guenther, M.S. | | |
| patient-interviewing-performance-key.pdf | Marilyn Guenther, M.S. | | |
| telephone-skills-performance-key-1.pdf | Marilyn Guenther, M.S. | | |
| treatment-planning-performance-key.pdf | Marilyn Guenther, M.S. | | |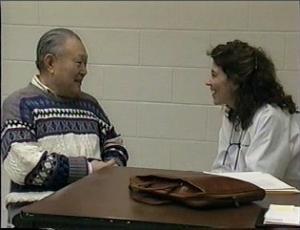 Term:
2007
Published:
Revised:
Jump to:
Cross-cultural Communication Between Health Care Providers and Patients

| Document Title | Creator | Downloads | License |
| --- | --- | --- | --- |
| cross-cultural-communication-performance-key.pdf | Marilyn Guenther, M.S. | | |
| Demo of less effective cross-cultural communication | Marilyn Guenther, M.S. | | |
| Demo of more effective cross-cultural communication | Marilyn Guenther, M.S. | | |
| enhancing-the-development-of-cross-cultural.ppt | Marilyn Guenther, M.S. | | |
Performance Keys

| Document Title | Creator | Downloads | License |
| --- | --- | --- | --- |
| definition-of-performance-keys.pdf | Marilyn Guenther, M.S. | | |
| focus-model-of-performance-keys.pdf | Marilyn Guenther, M.S. | | |
| giving-a-second-opinion-performance-key.pdf | Marilyn Guenther, M.S. | | |
| health-education-performance-key.pdf | Marilyn Guenther, M.S. | | |
| | Marilyn Guenther, M.S. | | |
| patient-baseline-performance-key.pdf | Marilyn Guenther, M.S. | | |
| patient-interviewing-performance-key.pdf | Marilyn Guenther, M.S. | | |
| telephone-skills-performance-key-1.pdf | Marilyn Guenther, M.S. | | |
Provider and Patient Communication Skills

| Document Title | Creator | Downloads | License |
| --- | --- | --- | --- |
| Patient Communication Demo: Crown vs. Filling 1 | Marilyn Guenther, M.S. | | |
| Patient Communication Demo: Crown vs. Filling 2 | Marilyn Guenther, M.S. | | |
| Patient Communication Demo: TMD 1a | Marilyn Guenther, M.S. | | |
| Patient Communication Demo: TMD 1b | Marilyn Guenther, M.S. | | |
| Patient Communication Demo: TMD 2a | Marilyn Guenther, M.S. | | |
| Patient Communication Demo: TMD 2b | Marilyn Guenther, M.S. | | |
| Patient Communication Demo: TMD 3a | Marilyn Guenther, M.S. | | |
| Patient Communication Demo: TMD 3b | Marilyn Guenther, M.S. | | |
| patient-interaction-strategies-table.pdf | Marilyn Guenther, M.S. | | |
| treatment-planning-performance-key.pdf | Marilyn Guenther, M.S. | | |