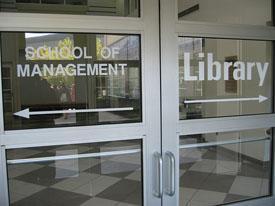 Term:
Winter 2009
Published:
Revised:
This course is no longer taught at the U-M School of Information. These materials are from an older iteration of the course.
Information practice demands knowledge of all aspects of management and service delivery. This course introduces selected theories, principles and techniques of contemporary management science, and organizational behavior and their application to libraries and information services. Students develop skills in planning, organizing, personnel management, financial management, leading, marketing, stakeholder management, and coordinating functions in libraries and information services. Students also have the opportunity to think critically about, and reflect upon, contemporary management practice in information organizations.
Information professionals find that no matter whether they choose a career as a single entrepreneur, solo librarian, archivist, or whether they join a large organization, they become managers -- of themselves, of clients or staff, and sometimes of substantial systems and services.
Instructor: Tiffany Veinot
dScribe: Jen Bonnet
Course Level: Graduate
Course Structure: 3 hour lecture, once a week
Syllabus
Schedule
Learning Objectives
About the Creators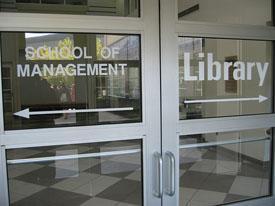 Term:
Winter 2009
Published:
Revised:
Syllabus

| Document Title | Creator | Downloads | License |
| --- | --- | --- | --- |
| | Tiffany Veinot | | |
Lectures

| Document Title | Creator | Downloads | License |
| --- | --- | --- | --- |
| Week 01: An Introduction to Management | Tiffany Veinot | | |
| Week 02: Planning and Strategy | Tiffany Veinot | | |
| Week 03: Organizational Design | Tiffany Veinot | | |
| Week 04: Stakeholder Management, Collaboration and Partnerships | Tiffany Veinot | | |
| Week 05: Human Resources I – Staffing | Tiffany Veinot | | |
| Week 06: Human Resources II – Hiring, Compensation and Staff Integration | Tiffany Veinot | | |
| Week 07: Human Resources III – Staff Integration, Supervision and Performance; Team Work | Tiffany Veinot | | |
| Week 08: HR wrap-up; Team Work and Leadership | Tiffany Veinot | | |
| Week 09: Financial Management I - Budgeting | Tiffany Veinot | | |
| Week 10: Financial Management II | Tiffany Veinot | | |
| Week 11: Accountability, Measurement and Reporting | Tiffany Veinot | | |
| Week 12: Marketing and Promotion | Tiffany Veinot | | |
| Week 13: Winning Resources | Tiffany Veinot | | |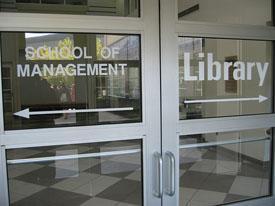 Term:
Winter 2009
Published:
Revised:
Class 01: An Introduction to Management

| Document Title | Creator | Downloads | License |
| --- | --- | --- | --- |
| | Tiffany Veinot | | |
| Week 01: An Introduction to Management | Tiffany Veinot | | |
Class 02: Planning in Libraries and Information Services

| Document Title | Creator | Downloads | License |
| --- | --- | --- | --- |
| Week 02: Planning and Strategy | Tiffany Veinot | | |
Class 03: Organizational Design

| Document Title | Creator | Downloads | License |
| --- | --- | --- | --- |
| Week 03: Organizational Design | Tiffany Veinot | | |
Class 04: Stakeholder Management Collaboration and Partnerships

| Document Title | Creator | Downloads | License |
| --- | --- | --- | --- |
| Week 04: Stakeholder Management, Collaboration and Partnerships | Tiffany Veinot | | |
Class 05: Human Resources Management I: Staffing and Hiring

| Document Title | Creator | Downloads | License |
| --- | --- | --- | --- |
| Week 05: Human Resources I – Staffing | Tiffany Veinot | | |
Class 06: Human Resources Management II: Training Supervision and Performance Management

| Document Title | Creator | Downloads | License |
| --- | --- | --- | --- |
| Week 06: Human Resources II – Hiring, Compensation and Staff Integration | Tiffany Veinot | | |
Class 07: Communication and Team Work

| Document Title | Creator | Downloads | License |
| --- | --- | --- | --- |
| Week 07: Human Resources III – Staff Integration, Supervision and Performance; Team Work | Tiffany Veinot | | |
Class 08: Leadership and Organizational Change

| Document Title | Creator | Downloads | License |
| --- | --- | --- | --- |
| Week 08: HR wrap-up; Team Work and Leadership | Tiffany Veinot | | |
Class 09: Financial Management I: Budgeting

| Document Title | Creator | Downloads | License |
| --- | --- | --- | --- |
| Week 09: Financial Management I - Budgeting | Tiffany Veinot | | |
Class 10: Financial Management II: Financial Statement Analysis

| Document Title | Creator | Downloads | License |
| --- | --- | --- | --- |
| Week 10: Financial Management II | Tiffany Veinot | | |
Class 11: Accountability; Measurement and Reporting

| Document Title | Creator | Downloads | License |
| --- | --- | --- | --- |
| Week 11: Accountability, Measurement and Reporting | Tiffany Veinot | | |
Class 12: Marketing and Promotion

| Document Title | Creator | Downloads | License |
| --- | --- | --- | --- |
| Week 12: Marketing and Promotion | Tiffany Veinot | | |
Class 13: Winning Support and Resources

| Document Title | Creator | Downloads | License |
| --- | --- | --- | --- |
| Week 13: Winning Resources | Tiffany Veinot | | |