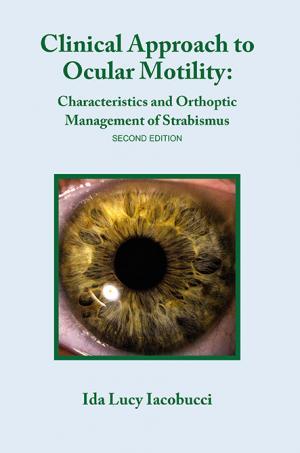 Term:
2015
Published:
Revised:
Professor Ida Lucy Iacobucci, Certified Orthoptist, presents updated material on the many advances made in the field of orthoptic management of strabismus since her original text was first published in 1980.  Miss Ida, as she likes to be called, shares a lifetime of experience as a clinician and teacher to educate the reader on the theory, science, and practice of diagnosis and treatment of strabismus. 
Drawn directly from her lectures to ophthalmology residents, fellows, and orthoptic students at the University of Michigan, this book is an outstanding companion to traditional textbooks and an excellent reference for established practitioners.  The author's careful attention to detail and thoroughness pave a path to success in this challenging field.  This book is an asset to medical educational programs worldwide, wherever orthoptic management of strabismus is taught. 
Clinical Approach to Ocular Motility: Characteristics and Orthoptic Management of Strabismus, Second Edition, is available for sale in print and ebook formats on Amazon.  Proceeds from sales will benefit the Ida Lucy Iacobucci Orthoptic Clinic at the University of Michigan. 
In the spirit of the University of Michigan's mission to add to the body of knowledge in the world, Miss Ida also shares her legacy by making it freely available here on the Open.Michigan website (CC: BY-NC-SA); you may download chapters from the book in the "Materials" tab (above).  
About the Creators
Ida Lucy Iacobucci ("Miss Ida" to her patients and colleagues) is an Associate Clinical Professor of Medicine at the University of Michigan Kellogg Eye Center.  She has trained hundreds of ophthalmology residents and dozens of orthoptic students in the clinic that bears her name – the Ida Lucy Iacobucci Orthoptic Clinic.
Miss Ida earned her bachelor's degree from the University of Michigan and her orthoptist certification from the University of California Medical Center in San Francisco in 1957.  Throughout her fifty-eight years as an orthoptist at the Kellogg Eye Center, University of Michigan, she has developed ground-breaking treatments for various types of strabismus and amblyopia. Her academic articles are now required reading for orthoptic students in training programs across the United States.
Her first textbook, Clinical Approach to Ocular Motility, was published in 1980 by the University of Michigan Medical School.  In 1982, the University of Michigan Orthoptic Program received the Richard G. Scobee award for excellence in training.  In 1985, Miss Ida received the Lancaster Award - the highest honor given by the American Association of Certified Orthoptists. Recently, she received the Lifetime Achievement Award for fifty-five years of excellence by the AACO.
Miss Ida continues to commute two days a week from her home in Southeastern Michigan to the Kellogg Eye Center in Ann Arbor where she examines children and adults with strabismus and trains tomorrow's practitioners.  "Orthoptics," she explains, "has been my life's work and life-long passion."
Interview with the Author: Respected Orthoptist Updates Textbook
Read an interview with the author, Ida Lucy Iacobucci.
Ida Iacobucci Updates a Classic Text
Read the news release from the U-M Kellogg Eye Center's 
Leaders & Best in Vision
 announcing publication of Prof. Iacobucci's textbook.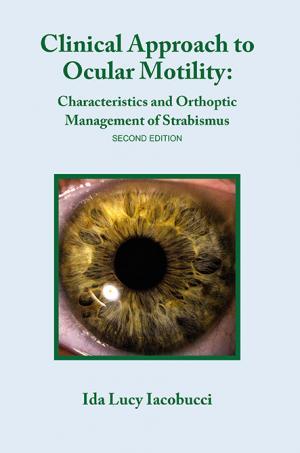 Term:
2015
Published:
Revised:
Jump to:
Texts

| Document Title | Creator | Downloads | License |
| --- | --- | --- | --- |
| Bibliography & References, About the Author | Ida Lucy Iacobucci | | |
| Chapter 01: Basic Tests to Evaluate Ocular Motility | Ida Lucy Iacobucci | | |
| Chapter 02: Forms of Retinal Correspondence | Ida Lucy Iacobucci | | |
| | Ida Lucy Iacobucci | | |
| | Ida Lucy Iacobucci | | |
| | Ida Lucy Iacobucci | | |
| Chapter 06: Accommodation and Convergence: AC/A Ratio | Ida Lucy Iacobucci | | |
| | Ida Lucy Iacobucci | | |
| Chapter 09: A-V Syndrome or Patterns | Ida Lucy Iacobucci | | |
| Chapter 10: Cyclodeviations | Ida Lucy Iacobucci | | |
| Chapter 11: Press-On Prism Management for Horizontal Deviations in Children and Adults | Ida Lucy Iacobucci | | |
| Chapter 12: Eye Practices | Ida Lucy Iacobucci | | |
| Chater 8: Vertical Deviations | Ida Lucy Iacobucci | | |
| | Ida Lucy Iacobucci | | |
| Title page, Foreword, Preface, Acknowledgements | Ida Lucy Iacobucci | | |