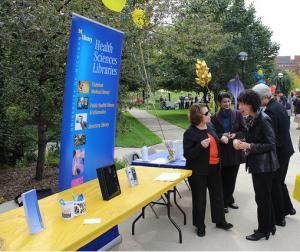 The mission of outreach for the Taubman Health Sciences Library is to promote the health of our community by way of improving access to high quality health information, with an emphasis on underserved communities and the elimination of health disparities.
dScribe: Katy Mahraj
About the Creators
Merle Rosenzweig is a Liaison Librarian at the Taubman Health Sciences Libraries at the University of Michigan.  Her liaison departments are Human Genetics, Molecular Medicine and Genetics, Family Medicine, Urology, Nephrology, and Pulmonary and Critical Care Medicine.  She received her B.A. degree from Wayne State University in Detroit Michigan and her A.M.L.S. degree from the University of Michigan.
Kate Saylor is the Outreach Library at Taubman Health Sciences Library at the University of Michigan.  She work closely with liaison librarians to identify, contribute to, and participate in local health-related events sponsored by the departments and schools at the University of Michigan and the University of Michigan Health System.  She also identifies local initiatives and coordinate Health Sciences Libraries participation through building relationships with local user populations.  She graduated with an M.S.I. in Library and Information Services from the University of Michigan.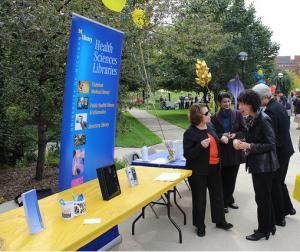 Jump to:
Lectures

Document Title
Creator
Downloads
License

How to Find Reliable Health Information Online

Merle Rosenzweig

MedlinePlus Keyword Search: A "How To" Guide

Kate Saylor

Kate Saylor

Emily Puckett Rodgers

Katy Mahraj

Kate Saylor

Emily Puckett Rodgers

Katy Mahraj
Miscellaneous

| Document Title | Creator | Downloads | License |
| --- | --- | --- | --- |
| Blog: MLibrary Healthy Communities | Taubman Health Sciences Library | | |
| Blog: News & Information from the Taubman Health Sciences Library | Taubman Health Sciences Library | | |
| Blog: Public Health - Research & Library News | Taubman Health Sciences Library | | |
| Course/Resource Archive in Institutional Repository (April 2010) | Taubman Health Sciences Library | | |