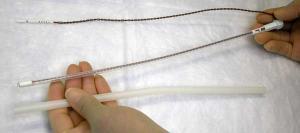 Term:
2014
Published:
Revised:
Welcome to the FSE and IUPC placement unit!
This unit has an overall goal of helping people learn and improve upon skills required for placement of the fetal scalp electrode (FSE) and intrauterine pressure catheter (IUPC).
Both of these tools are commonly utilized by the obstetrical practitioner to obtain valuable information during labor management, particularly when common complications set in. You may choose to view them as a "means to an end."
Gaining skill and confidence with appropriate placement of IUPC and FSE is one of the key elements in the management of labor which should be mastered in the U-M Department of Family Medicine Residency Program FMB1 Rotation. Residents should review this unit prior to placing their first FSE or IUPC. Observing skilled personnel perform these procedures is another way to reinforce both knowledge and skill. How you choose to use this unit will likely depend on your base skill level.
This module is also for U-M Department of Family Medicine Residents on the FMB1 rotation.
View the Fetal Scalp Electrode (FSE) and Intrauterine Pressure Catheter (IUPC) Module.
Learning Objectives
Knowledge
The indications, contraindications, benefits and risks of IUPC-FSE placements and how to identify the appropriate stage in labor when these tools could be used for additional monitoring.
How to accurately describe the procedure, obtain informed consent and document the procedure.
Possible complications associated with each procedure; how to recognize and treat such complications in a timely manner.
Skills
Use information technology to improve patient care practices.
Organize the specific steps required to correctly perform each procedure in the clinical setting, while minimizing complications.
Apply knowledge of the procedures to a clinical scenario.
Attitudes
Self-analyze their personal ability to perform these procedures in the clinical setting.
About the Creators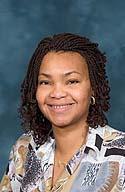 Uche D. George-Nwogu
Dr. George-Nwogu graduated from the Medical School at University College Hospital, University of Ibadan, Nigeria (1989) and completed her residency at the New York Medical College at St. Joseph's Medical Center in Yonkers, New York (2002). She serves at the Ypsilanti Family Medicine Center, and her clinical interests include women's health, children's health, and performing office-based procedures such as colposcopies. Dr. George-Nwogu also practices on the Department's obstetrical service. Personal interests include reading and walking.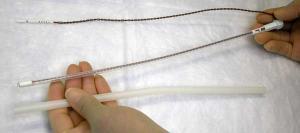 Term:
2014
Published:
Revised:
Jump to:
Texts

| Document Title | Creator | Downloads | License |
| --- | --- | --- | --- |
| | Uche D. George-Nwogu | | |
| Intrauterine Pressure Catheter | Uche D. George-Nwogu | | |
| Principles of FSE and IUPC Placement | Uche D. George-Nwogu | | |
| | Uche D. George-Nwogu | | |