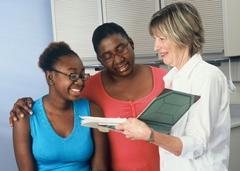 The Sociocultural Women's Health Standardized Patient (SP) exercise is designed primarily for third-year medical students, but can also be utilized by other health professions students learning the skills of incorporating a patient's personal, cultural, social and health beliefs into their medical history taking and negotiation of care/treatment plans. Students participate in this one-on-one Standardized Patient encounter during their Obstetrics and Gynecology clerkship.
The resources presented here are the materials provided to students to help them prepare for this exercise. We have also provided facilitators with the Standardized Patient cases and training materials and assessment tools associated with this exercise.
Instructor: Carrie Bernat
Structure: Training Exercise (4 sessions, 3-4 hours each)
NLM Citation: Bernat C, Lypson M, Berman D, Haftel H, Tang T, Hammoud M, et al. Sociocultural Women's Health Standardized Patient Case and Student Guide. MedEdPORTAL; 2011. Available from:www.mededportal.org/publication/8471
Learning Objectives
To demonstrate appropriate components of gynecological and relevant health histories.
To demonstrate appropriate alternatives to offer the patient.
To establish and maintain rapport with the patient.
To elicit a gynecological and relevant health history.
To explore the patient's cultural, social and health beliefs in the context of her health practices.
To negotiate a plan that is mutually acceptable for you and the patient.
To demonstrate attentiveness and empathy during the interaction.
 To demonstrate receptiveness and active participation during feedback and debriefing discussions.
Learning Outcomes
Effectiveness and Significance
Over time, the preparation materials provided to the students are adjusted to meet their educational needs or to address common logistical concerns/misunderstandings. This will likely be the case at any institution wanting to use the materials—adjustments will be made over time based on the experience from year to year. These materials can be presented to the students in printed/paper form or they can be uploaded to a student resource portal as PDF documents. During the 2008-2009 academic year, 44% of students found the preparation materials presented as somewhat valuable or valuable and 85% of students indicated that the objectives and expectations of the exercise were clear. The most important element for success is ensuring students are clear that materials are available and where they need to go to find them (either a physical location or an electronic one). The SP training materials are also adjusted over time to meet the educational needs of our SPs as well as our students based on information gathered from quality assurance (SP Educator reviewing SP performance), SP feedback about the training sessions and materials, student performance and student feedback about the experience. During the 2008-2009 academic year, 92% of students who completed our curriculum evaluation either agreed or strongly agreed that it was helpful to receive feedback about their clinical skills from the SP immediately following the interaction, 94% agreed or strongly agreed that the SP provided informative feedback and 95% agreed or strongly agreed that the SP was effective in portraying the patient.
Special Implementation Guidelines or Requirements
For each one hour session, clinical skills rooms (educational facilities set up similarly to outpatient clinic rooms, preferably equipped with recording equipment) to accommodate students are necessary. For the half hour debriefing immediately following the SP exercise, a room accommodating 10-12 people is needed. To facilitate the session, you will need a faculty facilitator trained in group facilitation, feedback and interviewing skills focusing on cultural communication. Additionally, instructions for students (mimicking a chart), assessment materials (assessment of student performance and student self-assessments) and feedback guides for the SPs are helpful in facilitating this exercise. Standardized Patients who are trained to the cases as well as in providing constructive feedback related to communication skills are essential for this exercise as well as a staff member to orient students, begin the exercise, keep time, be available for student questions/concerns and facilitate completion of student self-assessments. A Standardized Patient Educator trains the SPs to the case and feedback as well as schedules the exercise according to medical school/student/SP/space availability. Preparation materials for students should include information pertaining to the cultural aspects of the case, references from the literature and other complementary curricular materials and specific logistical information regarding timing, location, appropriate attire, contact information and scheduling procedures related to this exercise.
Lessons Learned
Despite all efforts to provide students with the necessary resources to be successful in their experience, there are some limitations to the information we are able to provide. Because negotiating a culturally aware treatment plan is a practical skill, there are students who will struggle with translating the written materials to actual practice. Additionally, it is important to recognize the amount of information students are able to internalize and when considering the addition of materials, ensure they are vital to the exercise. It is important to prioritize, edit and remove extraneous information to guarantee that students are able to internalize the most important pieces of information from your materials. A continuous review of materials, including student feedback about the experience is essential to providing students with the most effective preparatory tools possible. Other lessons learned include understanding the logistics of pulling students away from clerkship activities, not restricting the SPs' too much in terms of their role portrayal so that the cases are richer and more realistic and including a post-exercise debriefing to allow students to further discuss the successes and challenges they faced with this exercise.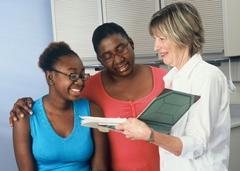 Handouts

| Document Title | Creator | Downloads | License |
| --- | --- | --- | --- |
| Checklists and Assessment Tools | Carrie Bernat | | |
| | Carrie Bernat | | |
| Standardized Patient Case and Training Materials | Carrie Bernat | | |
| | Carrie Bernat | | |
Lectures

| Document Title | Creator | Downloads | License |
| --- | --- | --- | --- |
| Course/Resource Archive in Institutional Repository (October 2012) | Carrie Bernat | | |
| Standardized Patient Training | Carrie Bernat | | |
| Standardized Patient Training - Feedback | Carrie Bernat | | |