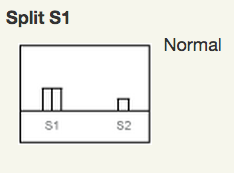 Term:
2015
Published:
Revised:
Four sections of different types of heart sounds and murmurs when listening with a stethoscope. Click the link below to go to the orginial page of sounds and corresponding graphs, or click the Sessions tab above to listen to the materials or download them.
Instructor: Richard D. Judge, M.D., F.A.C.C.
Format: MP3s with corresponding graphs 
Link: Click here to visit the Heart Sounds & Murmer Library website 
About the Creators
Professional Skill Builder from the University of Michigan Medical School, Ann Arbor
by Rajesh Mangrulkar, M.D. & Richard D. Judge, M.D., F.A.C.C.
Instructional Design & Product Management - Chris M. Chapman
Faculty Expert & Mentor - Richard Judge, MD, FACC
Design & Production (Version 3)
Jason Engling, Aki Yao, John B. Westfall, Marc R. Stephens, M.A.E.D., Amitava She
Additional Contributors (previous versions)
Lisa Bush, e*media, Inc., Medical School Information Systems, Mike Hsu, Daniel Chan, M.D., Aashish Didwania, M.D., Rahul Tendulkar, M.D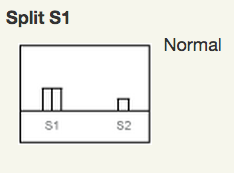 Term:
2015
Published:
Revised:
Jump to:
Demos

Document Title
Creator
Downloads
License

Aortic - Early Diastolic Murmur

Richard D. Judge

Rajesh Mangrulkar

Richard D. Judge

Rajesh Mangrulkar

Aortic - Systolic and Diastolic Murmurs

Richard D. Judge

Rajesh Mangrulkar

Aortic, Systolic Murmur with Absent S2

Richard D. Judge

Rajesh Mangrulkar

Apex, Left Ducubitus - Mitral Opening Snap and Diastolic Murmur

Richard D. Judge

Rajesh Mangrulkar

Apex, Left Ducubitus - S3 and Holosystolic Murmur

Richard D. Judge

Rajesh Mangrulkar

Apex, Left Ducubitus - S3 Gallop

Richard D. Judge

Rajesh Mangrulkar

Apex, Left Ducubitus - S4 and Mid-Systolic Murmur

Richard D. Judge

Rajesh Mangrulkar

Apex, Left Ducubitus - S4 Gallop

Richard D. Judge

Rajesh Mangrulkar

Apex, Left Ducubitus - Systolic Click with Late Systolic Murmur

Richard D. Judge

Rajesh Mangrulkar

Apex, Supine - Early Systolic Mumur

Richard D. Judge

Rajesh Mangrulkar

Apex, Supine - Holosystolic Murmur

Richard D. Judge

Rajesh Mangrulkar

Apex, Supine - Late Systolic Murmur

Richard D. Judge

Rajesh Mangrulkar

Apex, Supine - Mid-Systolic Click

Richard D. Judge

Rajesh Mangrulkar

Apex, Supine - Mid-Systolic Murmur

Richard D. Judge

Rajesh Mangrulkar

Apex, Supine - Normal S1 S2

Richard D. Judge

Rajesh Mangrulkar

Richard D. Judge

Rajesh Mangrulkar

Plumonic - Split S2 Persistent

Richard D. Judge

Rajesh Mangrulkar

Plumonic - Split S2 Transient

Richard D. Judge

Rajesh Mangrulkar

Pulmonic - Ejection Systolic Murmur with Persistent Split S2 and Ejection, Systolic Murmur

Richard D. Judge

Rajesh Mangrulkar

Pulmonic - Ejection Systolic Murmur with Single S2 and Ejection Click

Richard D. Judge

Rajesh Mangrulkar

Pulmonic - Ejection Systolic Murmur with Transient Splitting S2

Richard D. Judge

Rajesh Mangrulkar

Richard D. Judge

Rajesh Mangrulkar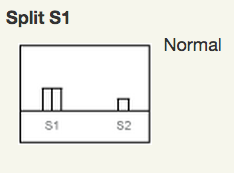 Term:
2015
Published:
Revised:
Section 1: Apex Area - Supine; Listening with the bell of stethoscope

Document Title
Creator
Downloads
License

Apex, Supine - Early Systolic Mumur

Richard D. Judge

Rajesh Mangrulkar

Apex, Supine - Holosystolic Murmur

Richard D. Judge

Rajesh Mangrulkar

Apex, Supine - Late Systolic Murmur

Richard D. Judge

Rajesh Mangrulkar

Apex, Supine - Mid-Systolic Click

Richard D. Judge

Rajesh Mangrulkar

Apex, Supine - Mid-Systolic Murmur

Richard D. Judge

Rajesh Mangrulkar

Apex, Supine - Normal S1 S2

Richard D. Judge

Rajesh Mangrulkar

Richard D. Judge

Rajesh Mangrulkar
Section 2: Apex Area - Left Ducubitus; Listening with the bell of stethoscope

Document Title
Creator
Downloads
License

Apex, Left Ducubitus - Mitral Opening Snap and Diastolic Murmur

Richard D. Judge

Rajesh Mangrulkar

Apex, Left Ducubitus - S3 and Holosystolic Murmur

Richard D. Judge

Rajesh Mangrulkar

Apex, Left Ducubitus - S3 Gallop

Richard D. Judge

Rajesh Mangrulkar

Apex, Left Ducubitus - S4 and Mid-Systolic Murmur

Richard D. Judge

Rajesh Mangrulkar

Apex, Left Ducubitus - S4 Gallop

Richard D. Judge

Rajesh Mangrulkar

Apex, Left Ducubitus - Systolic Click with Late Systolic Murmur

Richard D. Judge

Rajesh Mangrulkar
Section 3: Aortic Area - Sitting; Listening with the bell of stethoscope

Document Title
Creator
Downloads
License

Aortic - Early Diastolic Murmur

Richard D. Judge

Rajesh Mangrulkar

Richard D. Judge

Rajesh Mangrulkar

Aortic - Systolic and Diastolic Murmurs

Richard D. Judge

Rajesh Mangrulkar

Aortic, Systolic Murmur with Absent S2

Richard D. Judge

Rajesh Mangrulkar
Section 4: Pulmonic Area - Supine; Listening with the diaphragm of stethoscope

Document Title
Creator
Downloads
License

Plumonic - Split S2 Persistent

Richard D. Judge

Rajesh Mangrulkar

Plumonic - Split S2 Transient

Richard D. Judge

Rajesh Mangrulkar

Pulmonic - Ejection Systolic Murmur with Persistent Split S2 and Ejection, Systolic Murmur

Richard D. Judge

Rajesh Mangrulkar

Pulmonic - Ejection Systolic Murmur with Single S2 and Ejection Click

Richard D. Judge

Rajesh Mangrulkar

Pulmonic - Ejection Systolic Murmur with Transient Splitting S2

Richard D. Judge

Rajesh Mangrulkar

Richard D. Judge

Rajesh Mangrulkar