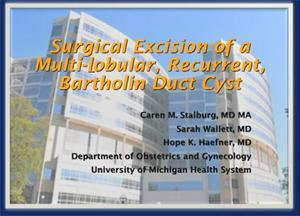 Term:
2011
Published:
Revised:
This surgical video describes the etiology, diagnosis, and management of uncomplicated Bartholin duct cysts. The video provides specific attention to the pre-operative approach to recurrent and/or complicated Bartholin duct cysts, and demonstrates the surgical approach to a complicated, recurrent Bartholin duct cyst. Suggestions for surgical techniques are provided.
Instructors:
Caren Stalburg, MDHope K. Haefner, MD
Sarah Mary Wallett, MD
Structure: 
Instructional Video
Warning: 
Viewer discretion is advised, this medical content is graphic and may not be suitable for all viewers.
Awards: 
3rd Place Award in the 2011 ACOG Film Festival