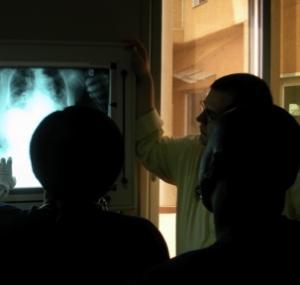 Term:
2009
Published:
Revised:
In 2009, the University of Michigan Department of Emergency Medicine working with global health partners at Komfo Anokye Teaching Hospital (KATH), Kwame Nkrumah University of Science and Technology (KNUST), Ghana College of Physicians and Surgeons, and the Ghana Ministry of Health established the Ghana Emergency Medicine Collaborative. The overall goal of the collaborative is to improve the provision of emergency care in Ghana through the development of physician, nursing and medical student training programs. This NIH-Fogarty International Center funded project also explores the use of new educational modalities such as open educational resources to provide education in Ghana.
As part of this project, a 5-day Advanced Emergency Trauma Course (AETC) was constructed utilizing curricular materials from existing U.S. based emergency medicine residencies with modification to the available resources of developing Low-Middle Income Countries (LMICs) such as Ghana. The course, which was designed by University of Michigan and University of Utah Emergency Medicine Faculty includes 20 hours of didactic teaching material in open educational resource format, low-cost simulation models for procedural training and assessment tools. Attached are the full 20 hours of didactic materials in OER format. The full course is available by contacting the course director, Patrick Carter at cartpatr@gmail.com.
Instructors:
Patrick Carter, AETC Course Director
Daniel Wachter
Rockefeller Oteng
Carl Seger
dScribe: Matthew Simpson
Viewer discretion is advised: The educational content contained herein may include medical images that non-health professionals may find disturbing.
Schedule
Day 1
A. Didactic Lectures – 8 am to 1 pm
1. Introduction and Course Interview (1 hour) – Patrick Carter, MD
2. Initial Assessment and Management (1 hour) – Patrick Carter
3. Airway and Ventilation Management (2 hours) – Daniel Wachter, MD (Patrick Carter)
4. Shock (1 hour) – Carl Seger, MD
B. Lunch – 1 pm to 2 pm
C. Skill Stations – 2 pm to 5 pm
1. Basic Airway Maneuvers (Bag-Valve Mask, OP Airway, NP Airway)
2. Orotracheal and Nasotracheal Intubation
3. Difficulty Airway Station (LMA, Bougie, Fiber-optic Intubation, Retrograde Intubation)
4. Surgical Airway Station
5. Trauma Scenario Practice Station
Day 2
A. Didactic Lectures – 8 am to 1 pm
1. Thoracic Trauma (1 hours) – Patrick Carter, MD
2. Abdominal and Pelvic Trauma (1 hour) – Daniel Wachter, MD (Rocky Oteng)
3. Genitourinary Trauma (1 hour) – Daniel Wachter, MD (Rocky Oteng)
4. Head Injury (1 hour) – Patrick Carter, MD
5. Cervical and Spinal Cord Injuries (1 hour) – Carl Seger, MD
B. Lunch – 1 pm to 2 pm
C. Skill Stations – 2 pm to 5 pm
1. Tube Thoracostomy/Pericardiocentesis Station
2. Central Venous Access Station (Central Line, Venous Cutdown)
3. Thoracotomy Station
4. Intraosseous Line Placement
5. Radiograph Review (Thoracic, Abdominal/Pelvic Trauma, Head Injury)
6. Trauma Scenario Practice Station
Day 3
A. Didactic Lectures – 8 am to 1 pm
1. Maxillofacial Trauma (1 hour) – Carl Seger, MD
2. Penetrating and Blunt Neck Trauma (1 hour) – Rockefeller Oteng, MD
3. Orthopedic and Extremity Trauma (2 hours) – Patrick Carter, MD
4. Burn Evaluation and Management (1 hour) – Carl Seger, MD
B. Lunch 1 pm to 2 pm
C. Skill Stations – 2 pm to 5 pm
1. Cervical and Spinal Immobilization
2. Splinting workshop
3. Radiograph Review (C-spine Injury, Orthopedic Injuries)
4. Trauma Scenario Practice Station
Day 4
A. Didactic Lectures – 8 am to 1 pm
1. Environmental Injuries (1 hour) – Carl Seger, MD
2. Ballistics and Penetrating Extremity Injuries (1 hour) – Carl Seger, MD
3. Wound Care (1 hour) – Rockefeller Oteng, MD
4. Special Populations: Pregnancy, Pediatrics, Geriatrics (1 hour) – Rockefeller Oteng, MD
5. Pre-hospital Management/Transfer to Definitive Care (1 hour) – Rockefeller Oteng, MD
B. Lunch – 1 pm to 2 pm
C. Skill Stations – 2 pm to 5 pm
1. Wound Care Workshop
2. FAST Exam Station
3. Trauma Scenario Practice Session
Day 5
A. Review of Course Material for Examination – 8 am to Noon
1. Rapid Review of Key Facts
2. Trauma Scenario Practice Session
B. OSCE/Written Test Evaluation – 1 pm to 4:45 pm
1. OSCE
2. Written Test
C. Post-Course Survey (4:45 to 5 pm)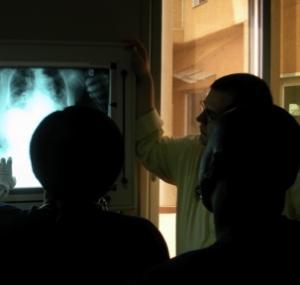 Term:
2009
Published:
Revised:
Jump to:
Lectures

| Document Title | Creator | Downloads | License |
| --- | --- | --- | --- |
| Lecture 01 and 02: Introduction and Course Overview Initial Assessment and Management | Patrick Carter | | |
| Lecture 03 and 04: Airway and Ventilator Management | Daniel Wachter | | |
| | Carl Seger | | |
| Lecture 06: Thoracic Trauma | Patrick Carter | | |
| Lecture 07 and 08: Gastrointestinal and Genitourinary Trauma | Daniel Wachter | | |
| | Patrick Carter | | |
| Lecture 10: C-Spine and Spinal Cord Trauma | Carl Seger | | |
| Lecture 11: Facial Trauma | Carl Seger | | |
| Lecture 12: Penetrating and Blunt Neck Trauma | Rockefeller Oteng | | |
| Lecture 13 and 14: Orthopedic Trauma | Patrick Carter | | |
| | Carl Seger | | |
| Lecture 16: Environmental Injuries | Carl Seger | | |
| Lecture 17: Ballistics and Penetrating Trauma to the Extremities | Carl Seger | | |
| Lecture 18: Wound Care and Management | Rockefeller Oteng | | |
| Lecture 19: Trauma Considerations in Special Populations | Rockefeller Oteng | | |
| Lecture 20: Pre-Hospital Trauma Management | Rockefeller Oteng | | |
Miscellaneous

Document Title
Creator
Downloads
License

Course/Resource Archive in Institutional Repository (October 2012)

Patrick Carter

Daniel Wachter
Schedules

Document Title
Creator
Downloads
License

Advanced Emergency Trauma course schedule

Patrick Carter

Daniel Wachter